Dragon Hunter
Profession
Warrior
Star
Race
Human
Material
War Horn
Hero Description
Absorbed Power of nopo, this dragon hunter is getting stronger and stronger.
Hero Attributes
Initial HP
5430
Initial ATK
780
Initial DEF
1110
Initial CRIT
780
HP Growth
+1086
ATK Growth
+156
DEF Growth
+222
CRIT Growth
+156
Awaken Hp
6516
Awaken ATK
936
Awaken DEF
1332
Awaken CRIT
936
Hit Rate
+10%
Dodge Rate
+0%
Rage Rate
+20%
Pacifist Rate
+40%
Block Rate
+40%
???
+???%
CRIT DMG Bonus Rate
+20%
Hero Skills
CRIT Skill
Bloody Chop
Attack 1 random enemy, reduce 50 rage points, and immune from freeze and stun for 1 turn.
Click Here to add
Leader Skill
Territory of Bloodthirsty
25% Atk Boost at the beginning of the battle, decrease 30% healing power of enemy team.
Hero Image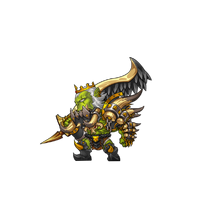 Additional Notes
Was added in patch 2.8
To get him, you need to evolve Razorswine to 7 stars.
Ad blocker interference detected!
Wikia is a free-to-use site that makes money from advertising. We have a modified experience for viewers using ad blockers

Wikia is not accessible if you've made further modifications. Remove the custom ad blocker rule(s) and the page will load as expected.