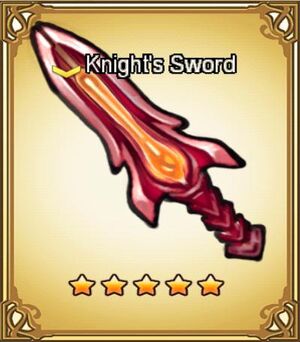 Knight's Gear
Can also be obtained in the VIP lvl 4 Reward Gift Pack.
Information
Type
 5 Star Weapon
Max Level
100
Stats
Atk
Bonuses
Block
Basic Attack
270
Tier 3

+455 Attack

+2% Block

Tier 6

+909 Attack

+4% Block

Tier 9

+1364 Attack

+6% Block
Additional Notes
Counts as 8% to Combine/(S) a Knight's Sword, counts as 4% to Combine/(S) other 5* gear.
Ad blocker interference detected!
Wikia is a free-to-use site that makes money from advertising. We have a modified experience for viewers using ad blockers

Wikia is not accessible if you've made further modifications. Remove the custom ad blocker rule(s) and the page will load as expected.