Ryu
Profession
Warrior
Star
Race
Human
Material
Book of Conquerors
Hero Description
Ryu is a an orphan. He was adopted by Master Gouken. He learned the Karate from the Master. Master Gouken taughet all he knew to Ryu, and taught Ryu the glory of fight.
Hero Attributes
Initial HP
2700
Initial ATK
360
Initial DEF
445
Initial CRIT
360
HP Growth
+540
ATK Growth
+72
DEF Growth
+89
CRIT Growth
+72
Awaken Hp
3240
Awaken ATK
432
Awaken DEF
534
Awaken CRIT
432
Hit Rate
+0%
Dodge Rate
+0%
Rage Rate
+0%
Pacifist Rate
+35%
Block Rate
+30%
???
+???%
CRIT DMG Bonus Rate
+0%
Hero Skills
CRIT Skill
Fire Punch
Attack a single target.
Click Here to add
Leader Skill
ATK Boost Lv3
20% ATK Boost at the beginning of the battle
Hero Image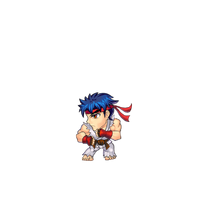 Additional Notes
Can only be aquired through pieces in the Vault
Needs 15 pieces to craft
It's one of the few "Street Fighter" heros.
The availability of this hero is likely an error on ZQ Games' part and in a next update availability of pieces for it in the Vault will probably be deactivated or switched to Mystery Man pieces.
Ad blocker interference detected!
Wikia is a free-to-use site that makes money from advertising. We have a modified experience for viewers using ad blockers

Wikia is not accessible if you've made further modifications. Remove the custom ad blocker rule(s) and the page will load as expected.