Hello once again Summoners,





Pocket Knights 1.5 has even more to offer: In the next update the Special Event Summon will always be 
available! No longer will you need to wait to spend those Special Event Summon Vouchers!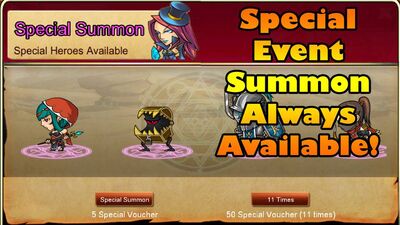 Yea thats right, it's here to stay. doesnt't really feel much different though. i'm ganna forget about my special summon vouchers til i have a buttload of them anyway lol. But at least people wont keep asking anymore!
Ad blocker interference detected!
Wikia is a free-to-use site that makes money from advertising. We have a modified experience for viewers using ad blockers

Wikia is not accessible if you've made further modifications. Remove the custom ad blocker rule(s) and the page will load as expected.