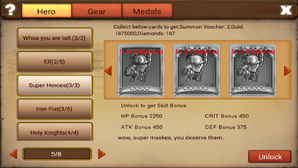 Heroes Required
Super Bronze Maske                    Super Silver Maske
Skill Bonus
Hp Bonus: 2250                    Crit Bonus: 450
Atk Bonus: 450                     Def Bonus: 375
Rewards
2 Summon Vouchers                    1,875,000 Gold
187 Diamonds
Additional Notes
For Bronze Maske (and maybe the other 2), fusing it to (S) doesn't make it count as Super Bronze Maske for this album. The Super Bronze Maske description in the album erroneously refers to VIP10 and using it to awaken 6-star heroes. Other than getting Super Gold Maske from VIP10, the game doesn't seem to list a way to get these Super Maskes in its files.
Ad blocker interference detected!
Wikia is a free-to-use site that makes money from advertising. We have a modified experience for viewers using ad blockers

Wikia is not accessible if you've made further modifications. Remove the custom ad blocker rule(s) and the page will load as expected.